This website is not active.

director's choice

Silver Soup Tureens


exhibitions



The Gilbert Collection was formed over four decades by the late Sir Arthur Gilbert who first started to collect English silver, attracted by its historical and decorative qualities. His passion for great craftsmanship then led him to collect Italian mosaics, gold boxes,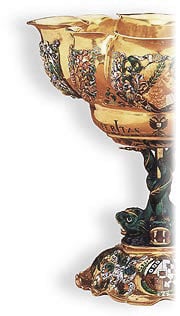 portrait miniatures and Roman enamel mosaics, for which he coined the term micromosaic to evoke the painstaking skill of this demanding technique.
Sir Arthur, a Londoner who moved to California in 1949, gifted his extraordinary collection to the nation in 1996, "I felt it should return to the country of my birth."
Today, thanks to Sir Arthur and the Heritage Lottery Fund, the Gilbert Collection is beautifully housed in newly restored Somerset House, where a sequence of 17 galleries creates an impressive setting for a unique display of English and Continental treasures.